This dinner will follow a dedication ceremony for the new Grand Strand Chapter memorial monument at Warbird Park on The Market Common in Myrtle Beach, SC from 3-430PM on October 13, 2020. To further register for the memorial dedication ceremony, please send me an email at james.r.albert@att.net or text me at 203-509-8555. To register for both the dedication and the dinner please register for the dinner on this website and the dedication via email or text to me.

Or, you may register for either or both events thru our Membership Chair, Paul Williamson, via email: paultommy1@yahoo.com or by phone/text at: 423-946-0105
A Program brochure describing both events in detail can be found by clicking on this link: Memorial Dedication Program.pdf
The monument dedication ceremony at Warbird Park is free of charge and the 60th Anniversary DInner at Prestwick Country Club is $30 per person. PAYMENT MAY BE MADE BY CREDIT CARD ON-LINE!! Or by credit card, check or cash at the door. Either way, prior registration is recommended as seating is limited due to social distancing requirements for table spacing.
Our guest speaker for the monument dedication ceremony will be Myrtle Beach Mayor Brenda Bethune and speaker for our 60th Anniversary dinner will be Lieutenant General Dana T. Atkins, USAF (retired) President and CEO of the national Military Officers Association of America (MOAA). See General Atkins' bio below.

Social hour for the dinner at Prestwick begins at 5PM, meeting starts at 6PM, and dinner will begin serving at 625PM. General Atkins will speak at 710PM. Dress is business casual and spouses and other guests are encouraged to attend.
Given the global pandemic, Prestwick Country Club and the Grand Strand Chapter will be taking several precautions to help keep luncheon attendees safe. These include:
- temperature taking upon arrival (with a non-contact infrared thermometer)
- disposable gloves to those who want them (if you wish to wear a mask, please bring your own)
- Prestwick staff will serve food to guests in a buffet line in appropriate safety attire and avoid shared food or drink containers at the tables
- Prestwick staff will sanitize facilities, high touch points, restrooms, etc. and provide hand sanitizer stations
- Tables are socially distanced (limited to 80 attendees in the room).

If you have any additional concerns, questions or suggestions about event safety precautions, please contact Jim Albert, Chapter President, via email: james.r.albert@att.net or text/cell: 203-509-8555.
Presenting the Colors at this dinner will be the Carolina Forest High School Navy Junior ROTC cadet corps under the direction of Captain Kevin Boyle, USN.
______________________________________________________________________________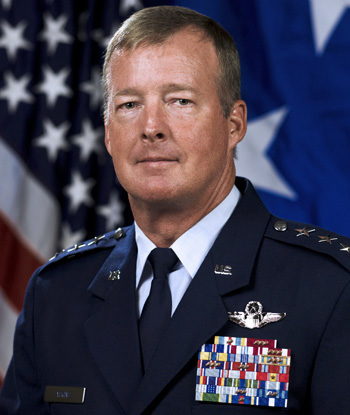 Lieutenant General Dana T. Atkins, USAF (retired)
BIO
Lt. Gen. Dana Atkins, USAF (Ret) is a native of Portland, Ore. He earned his bachelor's degree in biology from the University of Portland and holds two master's degrees, one in aeronautical science from Embry-Riddle Aeronautical University and another in national security strategy from the National War College. He also received an honorary doctorate in public service from the University of Portland, his "alma mater."
A command pilot with more than 4,000 hours in fighter aircraft, Atkins has served in a number of key command and staff positions, including commander, 20th Fighter Wing, Shaw AFB, S.C.; commander, 35th Fighter Wing, Misawa, Japan; vice commander, 7th Air Force and U.S. Air Force Korea; director of operations, U.S. Pacific Command; and special assistant to the supreme allied commander Europe during the air war over Serbia. During his career, he flew as a demonstration pilot for both the European A-10 Demonstration Team and the U.S. Air Force Thunderbirds.
At the time of his retirement from the Air Force, Atkins served as commander, Alaskan Command, U.S. Pacific Command; commander, 11th Air Force, Pacific Air Forces; & commander, Alaskan North American Defense Region, Elmendorf AFB, AK.

He and his wife, Laura, were the 2004 recipients of the General and Mrs. Jerome F. O'Malley Award, which recognizes the wing commander and spouse whose contributions to the nation, the Air Force, and the local community best exemplify the highest ideals and positive leadership of a military couple.
Before becoming the 9th president of MOAA, Atkins served as President of Chronicle Media, a print & digital media company based in Augusta, GA., that serves the southeastern U.S.